My Blog
Posts for tag: tmj disorders
By Lee Cosmetic Dentistry
August 11, 2018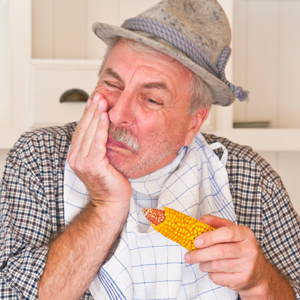 If you suffer from a temporomandibular ("jaw joint") pain disorder (TMD), you know any activity involving jaw movement can be uncomfortable. That includes eating.
But avoiding eating isn't an option—which means you may be attempting to minimize discomfort during flare-ups by choosing soft, processed foods that don't require a lot of jaw force. While this may certainly ease your TMD symptoms, you might also be cheating your health by eating foods not optimally nutritious.
It doesn't have to be a trade-off: with a few simple techniques you can still eat whole, natural foods while minimizing jaw joint pain. Here are 3 tips for making mealtime less stressful during TMD flare-ups.
Cut food into manageable bite sizes. Preparing your food beforehand will make a big difference in how much effort your jaws exert as you eat. Make sure all your food portions of vegetables, fruits or meats are cut or prepared into small, manageable bite sizes. It also helps to remove the tough outer skin of some fruits and vegetables or to mash other foods like potatoes or beans.
Use cooking liquids to soften food. For foods that aren't naturally moist, you can add liquids to soften them and make them easier to chew. Incorporate gravies, sauces or marinating liquids into your meal preparation to help soften tougher foods like poultry, meats or some vegetables.
Go easy with your chewing and biting motion. The strategy here is to minimize jaw movement and force as much as possible. While preparing your food as mentioned before will help a lot, how you bite and chew will also make a big difference. Limit your jaw opening to a comfortable degree, take small bites and chew slowly.
Managing a jaw joint disorder is an ongoing process. When practiced together with other treatments like therapy or medication, eating deliberately can help make life with TMD easier.
If you would like more information on coping with jaw joint disorder, please contact us or schedule an appointment for a consultation. You can also learn more about this topic by reading the Dear Doctor magazine article "What to Eat When TMJ Pain Flares Up."
By Lee Cosmetic Dentistry
December 06, 2017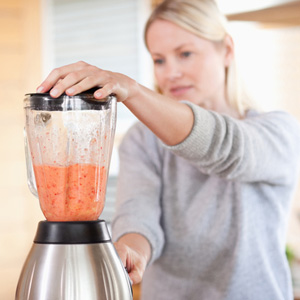 We don't often think about it, but eating is a multi-staged process. It starts, of course, with food that's hopefully high in nutritional value. But you also need coordinated jaw action to chew and shred your food that when combined with the enzymes in saliva can then be effectively digested in the stomach.
But what if you're unable to chew some foods because you suffer from chronic jaw pain and dysfunction? This is the situation for millions of people who suffer from problems associated with the jaw joints—temporomandibular joint disorders (TMD). It's not just the chronic pain and discomfort TMD can cause that's a real issue—it may also be preventing you from eating foods that are healthy for you.
Because TMD can make it difficult to open your jaws wide or causes pain when you bite down, you might especially have trouble with certain fruits and vegetables as well as many meats. Many people opt to skip otherwise healthy foods because they're too difficult to eat. That, however, could lead to lack of proper nutrition in the long run.
But with a few techniques and modifications, you can still include many of these foods in your diet even when TMD discomfort flares up. For one, be sure to cut all your food portions (including toast) into small, bite-sized pieces. These should be small enough to limit the amount of jaw opening required to comfortably place the bite in your mouth and chew. When preparing your food, be sure to peel fruits and vegetables that have skin, which is often hard to chew.
You should also try cooking crisper fruits and vegetables to a soft, moist texture. Choose meat cuts, poultry or seafood that can be cooked to a tender, moist consistency—you can also use gravies and sauces to further moisten them.
And don't forget to chew slowly. Not only does slower eating aid in digestion, it will help you avoid overworking your jaw joints.
With a few adjustments you can have a normal, nutritious diet and minimize the discomfort of your TMD symptoms. Continual healthy eating is a must for overall health and quality of life.
If you would like more information on reducing the impact of TMD on your life and health, please contact us or schedule an appointment for a consultation. You can also learn more about this topic by reading the Dear Doctor magazine article "What to Eat When TMJ Pain Flares Up."
By Lee Cosmetic Dentistry
October 14, 2015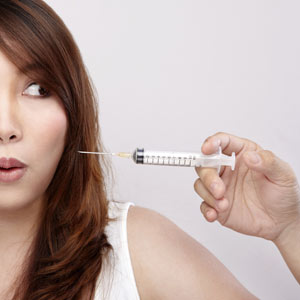 If you've suffered from problems with your jaw joints, known collectively as temporomandibular disorders (TMDs), then you know how uncomfortable and painful they can be. You may also have heard about the use of Botox injections to ease TMD discomfort.
Before you seek out Botox treatment for TMD, though, you should consider the current research on the matter. Far from a "miracle" treatment, the dental profession is still undecided on the effects of Botox to relieve TMD pain symptoms — and there are other risks to weigh as well.
Botox is an injectable drug with a poisonous substance called botulinum toxin type A derived from clostridium botulinum, a bacterium that causes muscle paralysis. The Food and Drug Administration (FDA) has approved small dose use for some medical and cosmetic procedures, like wrinkle augmentation. The idea behind its use for TMD is to relax the muscles connected to the joint by paralyzing them and thus relieve pain.
The FDA hasn't yet approved Botox for TMD treatment, although there's been some use for this purpose. There remain concerns about its effectiveness and possible complications. In the first place, Botox only relieves symptoms — it doesn't address the underlying cause of the discomfort. Even in this regard, a number of research studies seem to indicate Botox has no appreciable effect on pain relief.
As to side effects or other complications, Botox injections have been known to cause pain in some cases rather than relieve it, as with some patients developing chronic headaches after treatment. A few may build up resistance to the toxin, so that increasingly higher dosages are needed to achieve the same effect from lower dosages. And, yes, Botox is a temporary measure that must be repeated to continue its effect, which could lead to permanent paralyzing effects on the facial muscles and cause muscle atrophy (wasting away) and even deformity.
It may be more prudent to stick with conventional approaches that have well-documented benefits: a diet of easier to chew foods; cold and heat applications; physical therapy and exercises; pain-relief medications and muscle relaxers; and appliances to help control grinding habits. Although these can take time to produce significant relief, the relief may be longer lasting without undesirable side effects.
If you would like more information on treatments for TMD including Botox injections, please contact us or schedule an appointment for a consultation.