My Blog
Posts for tag: nutrition
By Lee Cosmetic Dentistry
November 09, 2018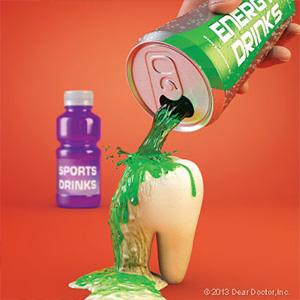 Although energy and sports drinks have different purposes, they have one thing in common: they often contain added citric and other acids to improve taste and prolong shelf life. Their high acid content can harm tooth enamel.
Although enamel is the strongest substance in the body, acid can dissolve its mineral content. And although saliva neutralizes acid after eating or drinking and helps restore lost minerals to the enamel, it may not be able to keep up if the mouth remains acidic for a prolonged period of time.
That could happen with both beverage types. While energy drinks have higher acid levels than sports drinks, both are high compared with other beverages.
A recent laboratory experiment studied the two beverages' effect on tooth enamel. The researchers submerged samples of enamel in six different beverage brands (three from each category) for fifteen minutes, and then in artificial saliva for two hours to simulate mouth conditions. They repeated this cycle four times a day for five days.
At the end of the experiment the enamel in the energy drinks lost on average 3.1 % of their structure, while the sports drink samples lost 1.5%. Although energy drinks appeared more destructive, the acid in both beverages caused enamel damage. Although there are other factors to consider in real life, the experiment results do raise concerns about both beverages' effect on dental health.
You can, however, minimize the potential harm to your enamel from energy or sports drinks. First, try other beverage choices lower in acid; water, for example, is a natural hydrator and neutral in pH. Try to only drink energy or sports beverages at mealtimes when your saliva is most active. And after drinking, rinse your mouth out with water to dilute any remaining acid.
And although it sounds counterintuitive, wait about an hour to brush your teeth after drinking one of these beverages. Your enamel can be in a softened state before saliva can re-mineralize it, so brushing earlier could remove tiny amounts of enamel minerals.
Taking these steps with energy or sports beverages could help you reduce the chances for enamel erosion. Doing so may help you avoid unnecessary damage to your teeth and overall dental health.
If you would like more information on the effect of sports and energy drinks on dental health, please contact us or schedule an appointment for a consultation. You can also learn more about this topic by reading the Dear Doctor magazine article "Think Before You Drink."
By Lee Cosmetic Dentistry
December 06, 2017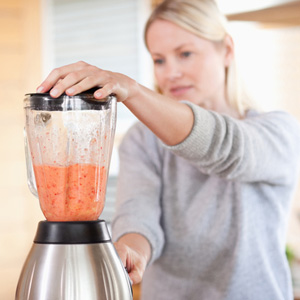 We don't often think about it, but eating is a multi-staged process. It starts, of course, with food that's hopefully high in nutritional value. But you also need coordinated jaw action to chew and shred your food that when combined with the enzymes in saliva can then be effectively digested in the stomach.
But what if you're unable to chew some foods because you suffer from chronic jaw pain and dysfunction? This is the situation for millions of people who suffer from problems associated with the jaw joints—temporomandibular joint disorders (TMD). It's not just the chronic pain and discomfort TMD can cause that's a real issue—it may also be preventing you from eating foods that are healthy for you.
Because TMD can make it difficult to open your jaws wide or causes pain when you bite down, you might especially have trouble with certain fruits and vegetables as well as many meats. Many people opt to skip otherwise healthy foods because they're too difficult to eat. That, however, could lead to lack of proper nutrition in the long run.
But with a few techniques and modifications, you can still include many of these foods in your diet even when TMD discomfort flares up. For one, be sure to cut all your food portions (including toast) into small, bite-sized pieces. These should be small enough to limit the amount of jaw opening required to comfortably place the bite in your mouth and chew. When preparing your food, be sure to peel fruits and vegetables that have skin, which is often hard to chew.
You should also try cooking crisper fruits and vegetables to a soft, moist texture. Choose meat cuts, poultry or seafood that can be cooked to a tender, moist consistency—you can also use gravies and sauces to further moisten them.
And don't forget to chew slowly. Not only does slower eating aid in digestion, it will help you avoid overworking your jaw joints.
With a few adjustments you can have a normal, nutritious diet and minimize the discomfort of your TMD symptoms. Continual healthy eating is a must for overall health and quality of life.
If you would like more information on reducing the impact of TMD on your life and health, please contact us or schedule an appointment for a consultation. You can also learn more about this topic by reading the Dear Doctor magazine article "What to Eat When TMJ Pain Flares Up."
By Lee Cosmetic Dentistry
September 14, 2017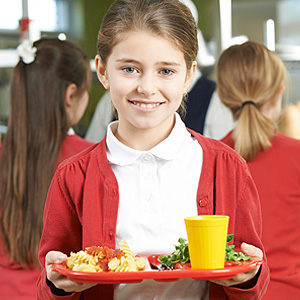 Sending the kids back to school means it's time to start packing those lunch boxes! What your children eat and drink can have a big effect on their oral health. So it's important to know what the best choices are… and what to avoid. Here are some tips for sending your kids off with a tooth-healthy school lunch every day.
Tip 1: Avoid Sugary Drinks
The scientific evidence is overwhelming that sugar is the most important dietary factor in causing tooth decay, and soft drinks are the largest source of sugar in many kids' diets. Even natural fruit juices have unhealthy amounts of sugar. So when it comes to beverages, keep it simple: H₂0 is the way to go!
Tip 2: Get Creative With Shapes & Flavors
Healthy food that's low in sugar doesn't have to be boring! You can use cookie-cutters to shape calcium-rich cheese and whole-grain bread into flowers, stars — even dinosaurs. Unbuttered popcorn can be flavor-boosted with a dash of cinnamon or parmesan cheese. There are all kinds of ways to get creative.
Tip 3: Sweeten The Deal With Fruits & Veggies
While fruits and vegetables do have some sugar, they are a good choice for a healthy smile — and a healthy body. That's because they also contain plenty of water and fiber, which slows the body's absorption of the sugar… and even helps clean the teeth! Kids enjoy the naturally sweet taste of bite-sized fruits and vegetables like cherry tomatoes, baby carrots and seedless grapes. And the cheerful, bright colors of these nutritious little nuggets make them even harder to resist!
Of course, even with a healthy diet, your kids still need to practice good oral hygiene at home, and have regular professional cleanings at the dental office. If you have any questions about nutrition or oral hygiene, contact us or schedule an appointment for a consultation. And have a happy, healthy — and delicious — return to school!