My Blog
Posts for: November, 2017
By Lee Cosmetic Dentistry
November 21, 2017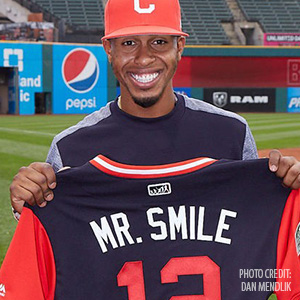 At the first-ever Players Weekend in August 2017, Major League Baseball players wore jerseys with their nicknames on the back. One player — Cleveland Indians shortstop, Francisco Lindor — picked the perfect moniker to express his cheerful, fun-loving nature: "Mr. Smile." And Lindor gave fans plenty to smile about when he belted a 2-run homer into the stands while wearing his new jersey!
Lindor has explained that he believes smiling is an important part of connecting with fans and teammates alike: "I've never been a fan of the guy that makes a great play and then acts like he's done it 10,000 times — smile, man! We've got to enjoy the game."
We think Lindor is right: Smiling is a great way to generate good will. And it feels great too… as long as you have a smile that's healthy, and that looks as good as you want it to. But what if you don't? Here are some things we can do at the dental office to help you enjoy smiling again:
Routine Professional Cleanings & Exams. This is a great place to start on the road toward a healthy, beautiful smile. Even if you are conscientious about brushing and flossing at home, you won't be able to remove all of the disease-causing dental plaque that can hide beneath the gum line, especially if it has hardened into tartar, but we can do it easily in the office. Then, after a thorough dental exam, we can identify any problems that may be affecting your ability to smile freely, such as tooth decay, gum disease, or cosmetic dental issues.
Cosmetic Dental Treatments. If your oral health is good but your smile is not as bright as you'd like it to be, we can discuss a number of cosmetic dental treatments that can help. These range from conservative procedures such as professional teeth whitening and bonding to more dramatic procedures like porcelain veneers or crowns.
Tooth Replacement. Many people hide their smiles because they are embarrassed by a gap from a missing tooth. That's a shame, because there are several excellent tooth-replacement options in a variety of price ranges. These include partial and full dentures, bridgework, and dental implants. So don't let a missing tooth stop you from being Mr. (or Ms.) Smile!
If you'd like more information about oral health or cosmetic dentistry, please contact us or schedule an appointment for a consultation. You can also learn more by reading the Dear Doctor magazine articles "Beautiful Smiles by Design" and "The Impact of a Smile Makeover."
By Lee Cosmetic Dentistry
November 06, 2017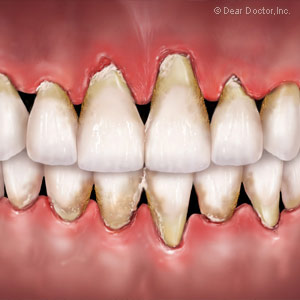 We're all susceptible to gum disease when we fail to practice effective daily brushing and flossing. But you may have a greater risk of gum disease (and more severe forms of it) if any of the following categories pertain to you:
Aging. Gum disease risk naturally increases with age. We can lower the risk with an effective daily hygiene regimen, along with a minimum of two office cleanings and checkups each year. Brushing and flossing removes bacterial plaque and food particles which accumulate on tooth surfaces. The longer plaque remains in contact with gum tissues, the greater the chances of infection.
Pregnancy. Although women tend to take better care of their teeth than men, they still face unique issues that increase their risk. During pregnancy, for example, certain hormone levels rise, which cause the gums to become more responsive to bacteria. Other hormonal fluctuations throughout a woman's life, including taking certain drugs for birth control or during menopause, can cause similar situations.
Family History. You could be at higher risk if members of your immediate family have a history of gum disease. Researchers estimate that 30% of the U.S. population has a genetic predisposition to the disease; it's also possible for family members to transfer bacteria to other family members by way of saliva contact or shared eating utensils.
Smoking. Nicotine, the active ingredient in tobacco smoke, causes changes in the blood vessels of the mouth that could inhibit the flow of antibodies (produced by the body to fight infection) in the bloodstream. As a result, smokers experience more rapid disease development and greater detachment between teeth and gums than non-smokers.
Other Inflammatory Conditions. A number of studies indicate people with other inflammatory conditions like heart disease, arthritis or diabetes have a higher risk for gum disease. Some researchers have even suggested that bacteria associated with gum disease pass into the blood stream and threaten other parts of the body — an added incentive to seek treatment and stop the disease's advancement.
If you fall into any of these risk categories, it's even more urgent that you practice effective daily hygiene with regular office checkups. Additionally, if you begin to notice bleeding gums, tenderness and swelling, or loose teeth, contact us as soon as possible for an evaluation.
If you would like more information on the diagnosis and treatment of gum disease, please contact us or schedule an appointment for a consultation. You can also learn more about this topic by reading the Dear Doctor magazine article "Assessing Risk for Gum Disease."