My Blog
Posts for: April, 2015
By Lee Cosmetic Dentistry
April 16, 2015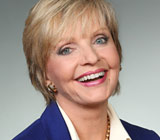 She's an international star who's recognized everywhere she goes. As Carol Brady, she was an ambassador for the "blended family" before most of us even knew what to call her bunch. And her TV Land Pop Culture Icon Award is on permanent display in the National Museum of American History. So what item that fits inside a purse can't Florence Henderson do without?
"I will never leave home without dental floss!" she recently told an interviewer with Dear Doctor magazine. "Because I have such a wide smile, I have found spinach or black pepper between my teeth after smiling very broadly and confidently."
Henderson clearly understands the importance of good oral hygiene — and she's still got her own teeth to back it up! In fact, flossing is the best method for removing plaque from between the teeth, especially in the areas where a brush won't reach. Yet, while most people brush their teeth regularly, far fewer take the time to floss. Is there any way to make flossing easier? Here are a couple of tips:
Many people have a tendency to tighten their cheeks when they're holding the floss, which makes it more difficult to get their fingers into their mouths and working effectively. If you can relax your facial muscles while you're flossing, you'll have an easier time.
To help manipulate the floss more comfortably, try the "ring of floss" method: Securely tie the floss in a circle big enough to easily accommodate the fingers of one hand. To clean the upper teeth, place fingers inside the loop, and let the thumb and index finger guide the floss around each tooth. For the lower teeth, use two index fingers. Keep moving the floss in your hand so you always have a clean edge... and remember, the goal is to get the tooth clean, but it shouldn't hurt — so don't use too much pressure or go too fast.
So take a tip from Mrs. Brady: Don't forget the floss! If you would like more information about flossing and other oral hygiene techniques, please contact us for a consultation. You can learn more in the Dear Doctor magazine article "Flossing: A Different Approach."
By Lee Cosmetic Dentistry
April 01, 2015
There are many ways to brighten and whiten teeth if they become dull and stained; but if you know the causes of staining on teeth, you may be able to avoid it in the first place. Here are some of the main causes of stained teeth. We hope this will help keep your smile stain-free.
Extrinsic Staining
What we call extrinsic staining occurs when stain-producing substances collect on the enamel surface of your teeth. To stop or slow this process, cut down on consumption of coffee, red wine, and tea, which contains high tannin contents.
Cut down on smoking. Tobacco can stain teeth, so it's best to stop the use of tobacco in any form.
Some mouthwashes and toothpastes contain substances that can cause tooth staining. Mouthwashes containing chlorhexidine, a prescription antibacterial mouthrinse, or those containing cetylpyridium chloride, can cause dental staining after long-term use. Some toothpastes contain stannous fluoride, which can also induce brown discoloration.
Dry mouth, a common problem, may contribute to extrinsic discoloration. This problem is sometimes a side effect of medications you are taking and drinking more water can often alleviate it. If drugs are the cause of mouth dryness, a consultation with your physician should be considered.
Bacterial buildup by chromogenic (color or stain producing) bacteria in your mouth can cause staining. Hundreds of bacteria normally live in your mouth, and it is important to keep good regular dental hygiene habits to prevent bacteria from accumulating on your teeth and gums.
Intrinsic Staining
Stains that are caused by various organic compounds that build up within the mineral matrix of your tooth's enamel are called intrinsic stains. They may be caused by tooth decay within the tooth or between the tooth and dental filling materials. Tooth decay is brown, it not only discolors teeth, but it also destroys tooth structure.
Use of some medications, such as tetracycline antibiotics, can cause intrinsic staining.
Make an appointment for an examination and assessment of your teeth, so that we can determine why they are developing stains. Once we know the cause, we can draw up a plan for whitening and brightening your teeth.
Contact us today to schedule an appointment to discuss your questions about tooth staining and its treatments. You can also learn more by reading the Dear Doctor magazine article "Tooth Staining."