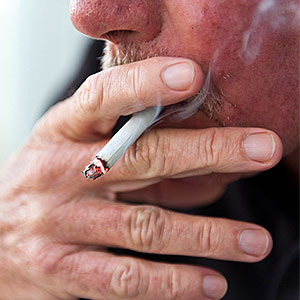 There are important reasons not to smoke, like minimizing your risk for deadly diseases like heart disease or lung cancer. But here's another good reason: Smoking increases your risk of gum disease and possible tooth loss. And although not necessarily life-threatening, losing your teeth can have a negative effect on your overall health.
According to the U.S. Centers for Disease Control, individuals who smoke cigarettes, cigars, pipes or e-cigarettes are twice as likely as non-smokers to develop gum disease, and four times as likely the infection will become advanced. Your risk may also increase if you're regularly exposed to second-hand smoke.
There are a number of reasons for this increased risk. For one, smokers are less likely than non-smokers to recognize they have gum disease, at least initially, because they may not display classic symptoms of an infection like red, swollen or bleeding gums. This happens because the nicotine in tobacco smoke interferes with normal blood circulation. As a result, their gums may appear healthy when they're not.
That same circulation interference can also inhibit the production and supply of antibodies to fight infection. Not only can this intensify the infection, it can also slow healing and complicate treatment. In fact, smokers are more likely to have repeated episodes of infection, a condition called refractory periodontitis.
But there is good news—smoking's effect on your gum health doesn't have to be permanent. As soon as you stop, your body will begin to repair the damage; the longer you abstain from the habit, the more your gum health will improve. For example, one national study found that former smokers who had not smoked for at least eleven years were able to achieve an equal risk of gum disease with someone who had never smoked.
Quitting smoking isn't easy, but it can be done. If abrupt cessation ("cold turkey") is too much for you, there are medically-supported cessation programs using drugs or other techniques that can help you kick the habit. And while it may be a long road, leaving smoking behind is an important step toward improving and maintaining good dental health.
If you would like more information on protecting your gum health, please contact us or schedule an appointment for a consultation. You can also learn more about this topic by reading the Dear Doctor magazine article "Smoking and Gum Disease."