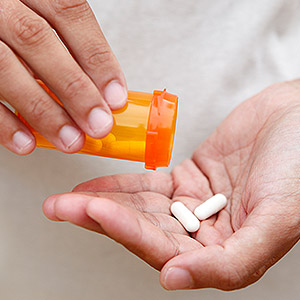 Although getting an implant requires surgery, it's usually a minor affair. Chances are good that after just a few days recuperation you'll be back completely to your normal activities.
But like many other minor surgeries, an implant procedure does pose a slight risk of post-op infection. That's especially so with any dental procedure like implant surgery, since the mouth harbors numerous strains of bacteria that could escape into the bloodstream. For most people, though, a post-op infection doesn't pose a major problem since their immune system kicks in immediately to defeat it.
But some patients with less than robust immune systems or other health problems can have serious complications from an infection. Among other things, infected tissues around an implant may not heal properly, putting the implant at significant risk for failure.
If you have a condition that makes a post-op infection problematic, your dentist or physician may recommend you take an antibiotic before your procedure. Known as prophylactic (preventive) antibiotic treatment, it's intended to give a weakened immune system a head-start on any potential infection after a procedure.
Using antibiotics in this way has been a practice for several decades, and at one time were recommended for a wide list of conditions. That's changed in recent years, though, as evidence from numerous studies seems to show the risk to benefit ratio isn't significant enough to warrant its use in all but a handful of conditions.
Both the American Dental Association and the American Heart Association recommend prophylactic antibiotics for patients with prosthetic heart valves, past infective endocarditis, a heart transplant and some congenital heart conditions. Some orthopedists may also recommend it for patients with prosthetic joints.
Even if you don't fall into these particular categories, prophylactic antibiotics may still be beneficial if you have a compromised immune system or suffer from a disease like diabetes or lung disease. Whether or not a prophylactic antibiotic is a prudent step given your health status is a discussion you should have with both your physician and your dentist.
If they feel it's warranted, it can be done safely in recommended doses. If your health isn't as robust as it could be, the practice could give you a little added insurance toward a successful implant outcome.
If you would like more information about dental implant surgery, please contact us or schedule an appointment for a consultation. You can also learn more about this topic by reading the Dear Doctor magazine article "Implants & Antibiotics."