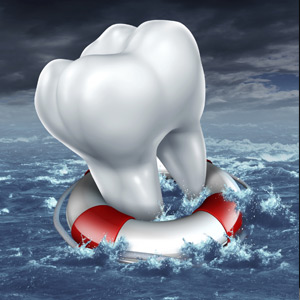 Dental implants are the ideal tooth replacement with their life-like appearance, high success rate and durability. If you have significant dental issues, they may seem like the perfect answer. But before you choose to replace a problem tooth with an implant, it might be to your benefit — financially and health-wise — to consider saving the tooth first.
Tooth decay can be a formidable enemy, destroying both tooth structure and the tooth's connectivity to the jaw. But there are treatment options even for heavily decayed teeth, including cavity filling with composite resins or porcelain that look and function like natural teeth. For decay deep within a tooth's interior, root canal therapy can rid the pulp chamber and root canals of decay and seal them from future occurrences. The treatment's success rate is comparable to and less expensive than implants.
While decay damage can be significant, adult teeth are more at risk from periodontal (gum) disease, a gum infection caused by bacterial plaque on tooth surfaces. This disease can weaken gum tissues until they eventually detach from the teeth and lead to loss. Gum disease, though, can often be brought under control by techniques called scaling and root planing that deep clean tooth and root surfaces of plaque and calculus (hardened plaque deposits).
Scaling may require multiple sessions and will require a greater effort from the patient in performing daily oral hygiene and visiting the dentist regularly to closely monitor gum health. And more advanced cases may require surgery to access deep pockets of infection or repair damaged tissues. But even with this effort, treating gum disease rather than replacing a tooth could be much less costly — and you'll be able to preserve your own teeth.
On the other hand, the disease process may have gone on too long and caused too much damage for the tooth to be saved. In these cases, the best option is to remove it and install a restoration like an implant. By first completing a complete dental examination, we'll be better able to advise you whether your best course is a "tooth rescue" or a replacement.
If you would like more information on dental repair or replacement options, please contact us or schedule an appointment for a consultation.